PORTA CHIUSA part one

Hans Koch clarinet
Michael Thieke clarinet
Paed Conca clarinet, composition
music here: the whole composition excerpt 1 excerpt 2 excerpt 3
PORTA CHIUSA part one is an interdisciplinary performance that combines two film projections, a spoken-word text, and a live musical performance. It is based on the conflict that we are experiencing at the beginning of the 21st century, namely that of a world built upon national states, in which people are still not treated equally; in which we still speak about color and race; in which nutrition, health and access to education are still greatly conditioned by hierarchal classification.
The main theme underlining the performance is the conflict between the "recognition of the inherent dignity and of the equal and inalienable rights of all members of the human family is the foundation of freedom, justice and peace in the world," (Declaration of Human Rights from December 10th, 1948) and the fact that this dignity is increasingly violated.
CONSTITUENT ELEMENTS
Film (1)
Wearing a blindfold, eventuality artist Giovanni Di Stefano is shown painting a glass door with black oil chalk. This procedure was filmed from both sides of the painted surface; and both recordings shown simultaneously on video. The artist attempted to cover the glass within 30 minutes, so that no transparent space was left untouched. A task he was naturally unable to achieve, since he was blindfolded and bound to make mistakes.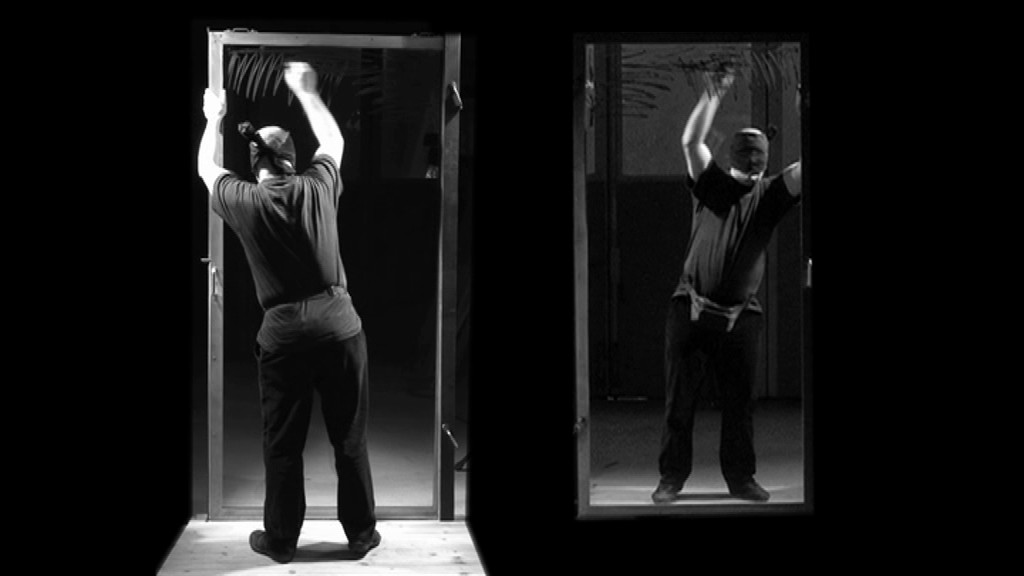 Text (2)
Written by author and performer Heike Fiedler, the "Forteressensiemangerneles" text is a word creation in various languages, which plays on the themes of marginalization and oppression.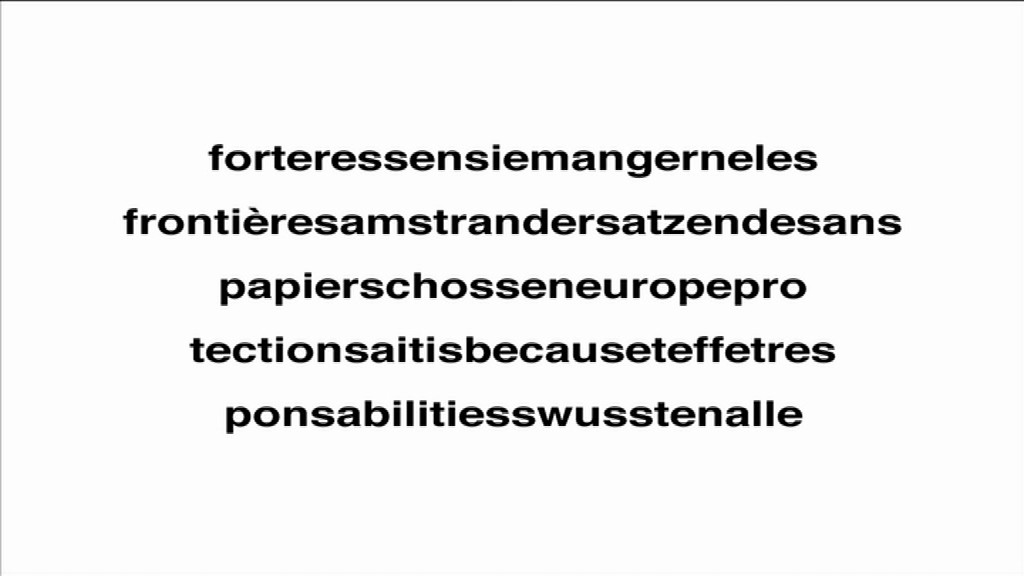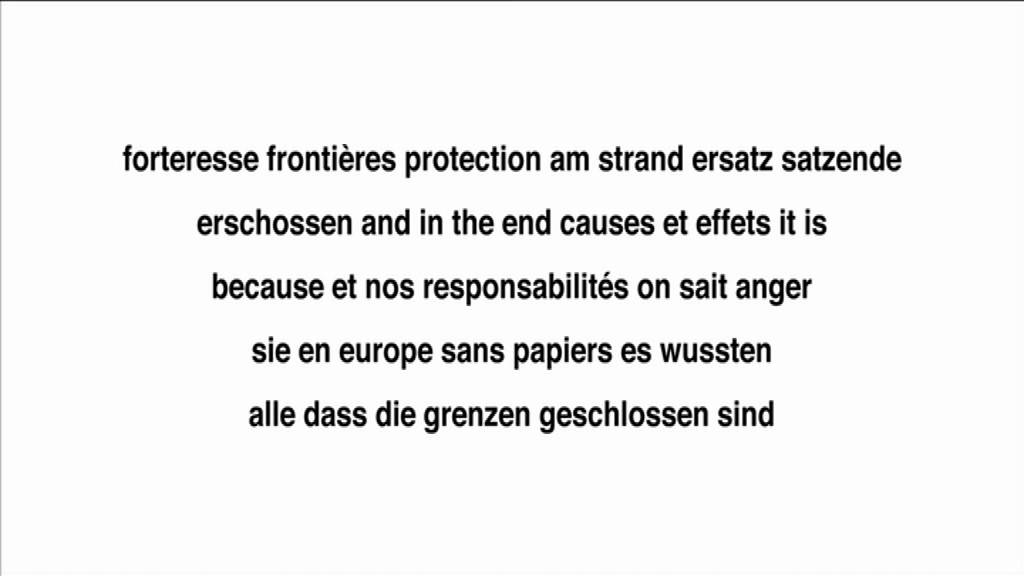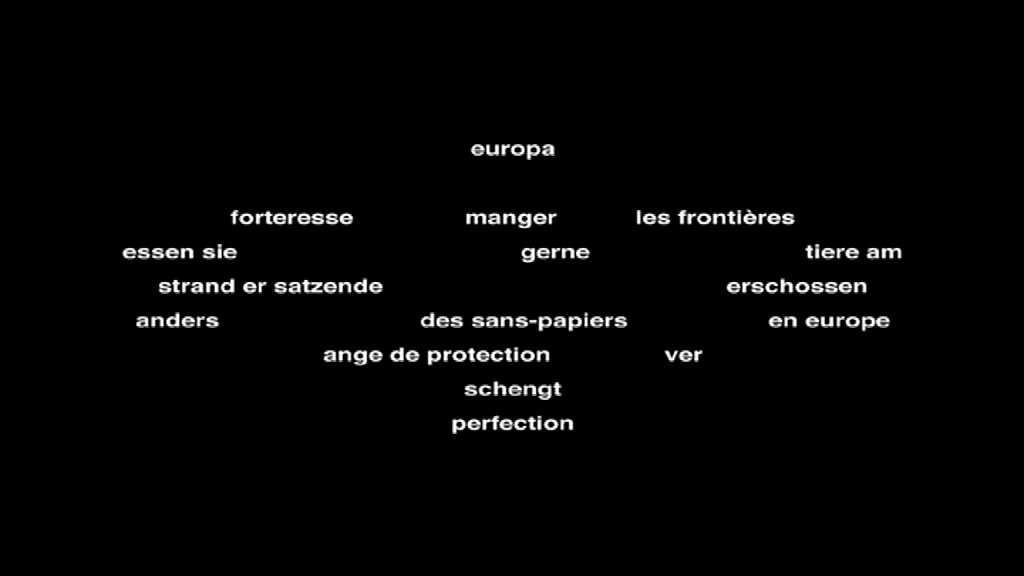 Film (3)
In 2008, filmmaker Giorgio Andreoli shot footage of the deportation of asylum seekers at the Zürich/Kloten Airport, and processed them into a movie collage. Their faces are not shown intentionally.
The "Porta Chiusa" composition will be produced live in concert by Hans Koch, Michael Thieke and Paed Conca, to accompany with the video, which includes the two films and the three short poems described above.
RATIONALE
The main video shown in PORTA CHIUSA shows a glass-door. By painting it, one tries to make it impermeable; this will not succeed, however, as spots are bound to remain transparent. PORTA CHIUSA employs this symbol to say that total (totalitarian) security is impossible; it is only used as pretense, to refuse admittance. A fallacious security, blind towards the reality of worldwide migration, and unaware that this kind of walling-off nourishes danger from within. This walling-off also means that human dignity is disregarded.
Heike Fiedler's texts and Giorgio Andreoli's film shed a light on the fact that the current criminalization of pan-European migration is legally anchored, and a fact to be reckoned with. As far as the would-be migrants are concerned, their lack of status entails that they are classified as sub-standard, dangerous, criminal and un-social. This "non-status" furthermore implies the inability to be a human being, and the deprivation of any right to freedom of action.
PORTA CHIUSA intends to make a statement against this recent development in world policy, and transmit a strong and definitive signal against it.
PORTA CHIUSA part two

because life should be so wonderful(l)
Maki Hachiya vocals
Hans Koch clarinet
Michael Thieke clarinet
Paed Conca clarinet, composition

music here: the whole composition
Heike Fiedler's text "nano splitter gefaser" influenced me during composing, but I do not let it sound as a fluid text. Only fragments of sentences here and there will break out, but most of the time the voice will mingle with the three clarinets and produce a kind of "Drownmusic" on a low volume. The composition "because life should be so wonderful(l)" explore further the tonal and microtonal possibilities offered by three clarinets in combination with voice. The first edition of this work was with the singer Sabina Meyer and on our Japantour in October 2014 we did work with the Japanise singers Kouta Unaka, Masae Takano and Maki Hachiya. In November 2014 we did perform with Maki Hachiya in Switzerland. The development of this composition was supported through the UBS Kulturstiftung.


PORTA CHIUSA part three

my home in a suitcase
Maki Hachiya vocals
Hans Koch clarinet
Michael Thieke clarinet
Paed Conca clarinet, composition
Based on Yara Bou Nassar's text "my home in a suitcase" from 2013. I will only use this text as a inspiration for this composition. The premiere was in November 2014
PORTA CHIUSA part four

raw!

Hans Koch clarinet
Michael Thieke clarinet
Paed Conca clarinet, composition
music here: excerpt of raw! the hole composition video of raw!(in Seoul) video of raw!(in Kobe)

this composition was composed for the trio and the premiere was in February 2016. Paed Conca is working on a new composition for 2018.

Festivals: Artacts in Sankt Johann(Austria), Improfestival in Yokohama(Japan), Irtijal Festival in Beirut(Lebanon), Konfrontationen Festival in Nickelsdorf(Austria), Impro music festival Yokohama(Japan), Swiss music days in Belgrade(Serbia), Vs Interpretation Festival in Prague(Czech), Dotolimic festival in Seoul(Korea), 2nd Taiwan improvised music festival in Taipei.


TOURDATES



2023:

PORTA CHIUSA Japantour 2023!





2021:

6 to 10 of June Biel residency with concerts in Biel, Switzerland
7th of June at la voirie in Biel, Switzerland
14 to 24 of August Berlin residency with concerts in Berlin, Germany
21st of August Au Topsi Pohl Berlin
24th of August KM 28 in Berlin
18th to 24th of October Beirut residency with concerts in Beirut, Lebanon
19th of October on the stairs next to Meshmosh in Beirut, Lebanon
20th of October with Caroline Ann Baur, Nadia Daou and Marc Ernest at Riwaq Beirut, Lebanon
21st of October with Khodor Ellaik at Anise Beirt, Lebanon
22nd of October with Marc Ernest at Onomatopoeia Beirut, Lebanon
23rd of October with Aya Metwalli at Demo Bar Beirut, Lebanon
24th of October with Sharif Sehnaoui at Bustros Palace Beirut, Lebanon


2019:

7th of May at the Ono in Bern, Switzerland
8th of May at the Wälcheturm in Zürich, Switzerland
9th of May at the Petersburg Art Space in Berlin
10th of May at the KM 28 in Berlin
11th of May at the Kafe Haereverk in Oslo, Norway
12th of May at the Cappelens Forslag in Oslo, Norway
13th of May at the Konsert Galleriet in Trondheim




2018:

19th of December at the dotolim in Seoul, Korea
20th of December at the atelier Dai Q Geijutsu in Tokyo, Japan
21st of December at the Airgin in Yokohama, Japan
22nd of December at the ftarri in Tokyo, Japan
23rd of December at the coo in Sapporo, Japan
24th of December at the guggenheim house in Kobe, Japan
25th of December at the big apple in Kobe, Japan
26th of December at the tbone studio in Osaka, Japan
27th of December at the Groove Cosmos in Uraso Okinawa, Japan
28th of December at the ftarri in Tokyo, Japan
29th of December at the Cool Jojo in Tokyo, Japan




2017:

10th of November at the dotolimic 2017 festival in Seoul, Korea
11th of November at the dotolimic 2017 festival in Seoul, Korea
12th of November at the dotolimic 2017 festival in Seoul, Korea
13th of November at the atelier Dai Q Geijutsu in Tokyo, Japan
14th of November at the Cool Jojo in Tokyo, Japan
15th of November at the gallery Hukka in Tokyo, Japan
16th of November at the Airgin in Yokohama, Japan
19th of November Miji concert at the Meridian Space in Beijing, China(afternoon concert)
19th of November Miji concert at the Meridian Space in Beijing, China(evening concert)
20th of November at the Space 631 in Shanghai, China
23rd of November at the Liangzhu art center in Hangzhou, China
24th of November at the Saal in Hong Kong, China
25th of November at the 2nd Taiwan improvised Music festival in Taipei, Taiwan
26th of November at the JSYGS in Hsinchu, Taiwan
30th of November at the puppet cafe in Hanoi, Vietnam
1st of December at the heritage space in Hanoi, Vietnam
2nd of December at the Minut Init in Kula Lumpur, Malaysia
3rd of December at the Moutou in Kula Lumpur, Malaysia

2016:

24th of February at the maison 44 in Basel, Switzerland
27th of April at the Vs. interpretation Festival in Prague, Czech
18th of September at the No Black Tie in Kuala Lumpur, Malaysia
20th of September at the rehearsal space of the HORSE Dance Theater in Taipei, Taiwan
21th of September workshop at the Chiao Tung University in Hsinchu, Taiwan
21th of September at the JSYGS in Hsinchu, Taiwan
22nd of September at the Nanhai Gallery in Taipei, Taiwan
23rd of September at the Kid Ailack Art Hall in Tokyo, Japan
24th of September at the Art Space Tetra in Fukuoka, Japan
25th of September at the Retroft in Kagoshima, Japan
26th of September at the Big Apple in Kobe, Japan
27th of September at the Soutokuann in Osaka, Japan
28th of September at the Studio T-Bone in Osaka, Japan
29th of September at the Muriwui in Tokyo, Japan
30th of September at the Koen Dori Classics in Tokyo, Japan
1st of October at the Impro Art Festival in Yokohama, Japan





2014:


15th of October at the Airgin in Yokohama, Japan with Maki Hachiya
16th of October at the Knuttel House in Tokyo, Japan with Maki Hachiya
17th of October at the Candy in Tokyo, Japan with Maki Hachiya
18th of October at the Kissa Sakaiki in Tokyo, Japan with Morishige Yasumune
19th of October at the Take Five in Osaka, Japan with Takumi Seino
20th of October at the Nanya in Nagoya, Japan
21st of October at the Space Eauuu in Kobe, Japan with Kouta Unaka and Takumi Seino
22nd of October at the Big Apple in Kobe, Japan with Kouta Unaka and Takumi Seino
23rd of October at the Common Cafe in Osaka, Japan with Kouta Unaka and Takumi Seino
24th of October at the Urbanguild in Kyoto, Japan with Takumi Seino
25th of October at the Art Space Tetra in Fukuoka, Japan
26th of October at the Muriwui in Tokyo, Japan with Maki Hachiya
28th of October at the Coo in Sapporo, Japan with

Masae Takano


29th of October at the Leaf in Hakodate, Japan with

Masae Takano


30th of October at the Pit Inn in Tokyo, Japan with Maki Hachiya
9th of November at the maison 44 in Basel, Switzerland with Maki Hachiya
13th of November at the Cabinet in Geneva, Switzerland with Maki Hachiya
15th of November at the Sonarraum 64 in Bern, Switzerland wwith Maki Hachiya
16th of November la Voirie in Biel/Bienne, Switzerland with Maki Hachiya
18th of November at the institute in Zürich, Switzerland with Maki Hachiya
19th of November at the spazio culturale panelle 10 in Locarno, Switzerland with Maki Hachiya



2013:


17th of April at the Roessli in the Reitschule in Bern, Switzerland
18th of April at the Starkart in Zürich, Switzerland
19th of April at the maison 44 in Basel, Switzerland
20th of April at the spazio culturale temoraneo in Bellinzona, Switzerland
21st of April at the Maison du Velo in Lausanne, Switzerland
20th of July at the Konfrontationen Festival in Nickelsdorf, Austria
14th of October at the "swiss music days" in Belgrade, Serbia
15th of October Novi Sad, Serbia
22nd of December at the OG9 in Zürich, Switzerland





2012:

8th of April at the IRTIJAL 12 Festival in Beirut, Lebanon
13th of April at the Radio Liban in Beirut, Lebanon
14th of April at the Nawfal Palace in Tripoli, Lebanon
15th of April at the Batroun Projects in Batroun, Lebanon
16th of April at the Metro al Madina in Beirut, Lebanon





2010:


24th of February at the Cinema of the Reitschule in Bern, Switzerland
25th of February at the Cinema of the Reitschule in Bern, Switzerland
27th of February at the l'Etage de Saint Gervais in Biel/Bienne, Switzerland
28th of February at the Cinema of the Reitschule in Bern, Switzerland
3rd of March at the Innenhofkultur in Klagenfurt, Austria
5th of March at the ARTACTS 10 in Sankt Johann im Tirol, Austria
22th of April in the Cinema of the Reitschule in Bern, Switzerland
23rd of April at the Maison 44 in Basel, Switzerland
25th of April at the Kunstraum Walcheturm in Zürich, Switzerland
29th of April at the Theatre de Saint Gervais in Geneve, Switzerland
1st of May at the Jalan-Jalan in Wakayama, Japan
2nd of May with Takumi Seino at the Antalya Takanabe in Osaka
3rd of May at the K.D. Japon in Nagoya
4th of May at the Urbanguild in Kyoto
5th of May with Takumi Seino at the Big Apple in Kobe
6th of May with Takumi Seino at the Common Cafe in Osaka
7th of May at the Art Space Tetra in Fukuoka
8th of May with Mori-Shige and Keiko Higuchi at the International Art Festival in Yokohama
9th of May with Maki Hachiya at the International Art Festival in Yokohama
11th of May at the Coo in Sapporo
12th of May at the with Renato Ciunfrini, Mori-Shige and Keiko Higuchi at the Bar Isshee in Tokyo
14th of May with Kaido Yutaka at the Knuttelhouse in Tokyo\
15th of May with Maki Hachiya , Nabuyoshi Ino and Ryuichi Yoshida at the Aketa no Mise in Tokyo
16th of May with Maki Hachiya and Kazutoki Umezu at the Pit-Inn in Tokyo
17th of May with Maki Hachiya and Takayuki Kato at the Flying Teapot in Tokyo
18th of May at the Super-Deluxe in Tokyo
19th of May at the Rag in Kyoto
20th of May with Yoko Miura at the Violon in Tokyo